Describe
COMBO OF 6 100g CASHEW PRODUCTS
Pack: 100g per box x 6

Ingredients: see on each packaging

Using: ready to eat

MFG: See on the Packaging

EXP: See on the Packaging


The price has included VAT tax 10%
---
Products of Nam Xanh are always inspired by the on-going creativity and innovation.
We always wish to incorporate new vitality and figures into our adored Vietnam authentic products to exclusively and newly feature them. Being flavored with gac, turmeric, coconut and pink pepper, cashew wear new colorful and vivid dresses.
You absolutely can say it with a petty pack of the cashew product combo that is trusted to give to your friends and relatives.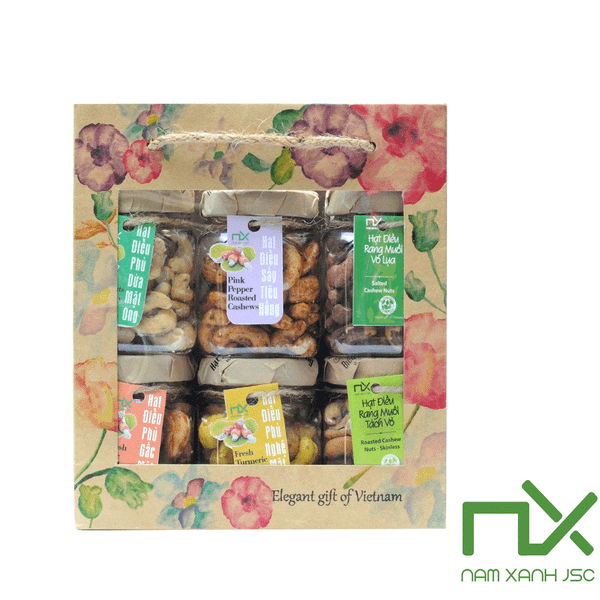 Cashew nutrition compositions
According to national nutrition database of U.S. Department of Agriculture (USDA), 1 ounce of cashew (28,35g) contains the following:
- 157 calo;
- 8,56g carbohydrate;
- 1,68g sugar;
- 0,9g cellulose;
- 5,17g protein;
Originated from Brazil in South America, cashew was introduced to Africa and India. These are still the biggest cashew production regions in the world.
People sell both fresh and roasted cashew with or without salt.
Cashew have recently been used for processing products such as cashew milk, cashew cheese, cashew cream sauce and sour cream to replace for cow milk.
Notices to preservation
Hard shell nuts, in general, and cashew nuts both have high content of fat resulting in easy spoilage. Keep cashew nuts in cool and dry place to prolong their expiry date. If being preserved properly, cashew can be kept in several months at room temperature, one year in cool cabinet of fridgerator and two years in freeze cabinet.
Spoiled cashew are not harmful for us, but taste harshly that make many people uncomfortable.
Potential health risks due to eating cashew
That right nutrition plan is the most important issue in preventing disease risks and for healthy life. Making more options to food to eat and not focusing on some certain kinds of food are the key to a healthy body.
This Combo is available for sales at the Showroom of Nam Xanh. Let's come to enjoy it!