Describe
Fresh Coconuts coated Soybeans 190g
Pack: 100g

Ingredients: soybeans 90%, fresh coconuts 7%, sugar, salt

Using: ready to eat

MFG: See on the Packaging

EXP: See on the Packaging


Res. No: 4719/2015/YTHCM-XNCB

The price has included VAT tax 10%
---
To make a new product, it requires to use good materials for delicious taste and excellent appearance through the whole production process. By experiencing the reality, we have found that soybeans not only contain high and equivalent protein contents, but also have high economic value. Regarding the effect of soybeans, you just need to type one key word, only, on search engines on the Internet to get updated with nutrition information of soya beans. However, not everyone can understand that how long and how well we have made efforts to keep learning, studying and creating to perfect the very hard production process.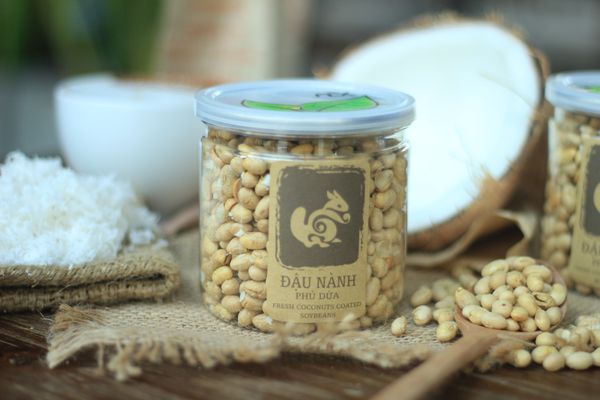 Through 5 years of study and successive monitoring, we have found that it is not easy and hard to process soybean seeds. The difficulty is how to select raw soybean seeds of equivalent size so that their outer shells will not be blistered during roasting whereas the easiness is the process will be simpler if we use the right raw materials, roasting method and preservation.
Keeping going from that point, Nam Xanh wish to continue our own story by incorporating invisible value in each petty soya seed. We are proud of our soybean product that has had no competitor so far. By combining with naturally available materials such as Stevia rebaudiana (sweetener and sugar substitute extracted from the plant species) and black pepper, as well diversifying with other natural and pure ingredients such as fresh coconuts, coffee beans, gac and turmeric (yellow ginger), soybean product is dressed with new coatings.
With our non-stop creativity with brand new and exceptional ideals, we have keep moving on the selected path of our Nam Xanh own with the guideline "Quintessence Inheritance – Creation Continuity". We are on continuous writing our own story.