Describe
GRILLED GINGER WITH HONEY
Weight: 110g / box, 14 slices

Ingredients: Ginger 95%, Honey 4%, Sugar

Using: Ready to eat

MFG: See on the Packaging

EXP: See on the Packaging

DOC. No: 2227/2015/YTHCM-XNCB

The price is inclusive of 10% VAT.
---
Step by step by washing, peeling, slicing, boiling, washing again with cold water and soaking of ginger with boiled sugar, followed by drying, you have just made one of the Vietnamese traditional snacks, called ginger jam that is known, but not used by everyone. Here we would like to share with you a story how to renew this traditional cuisine of jam.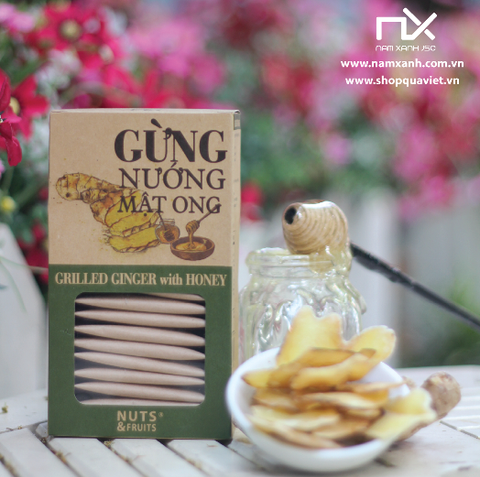 Everyone no matter where he comes from or which race he belongs to knows about the great usefulness of ginger and honey. The "Grilled Ginger with Honey" was named after the idea of combining these two ingredients into one products.
We plant ginger trees in sack for easily moving them to where they daily enjoy the sunshine.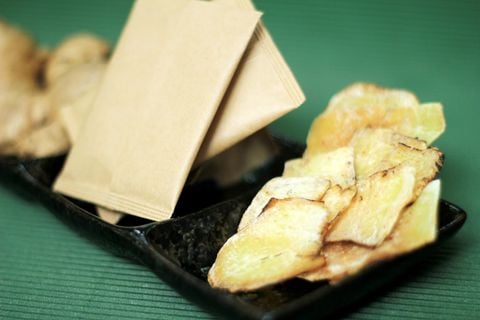 Ginger must be selected as long as it is not neither too young nor too old. The best is to have rounded ridge and bright yellow. Ginger is cut into slices that fit to bite and laced with honey and sugar with a certain proportion and grilled after that. Though as simple as it is, grilled ginger with honey has become familiar with more people.
Being far away from home on your business trip or traveling, you are missing home and wish to feel more peacefully. A packed slice of grilled ginger with honey can help.
Hold a piece of ginger in your mouth to ease travel sickness.
Daily use of ginger helps you avoid to have a flu.
As a good condiment, ginger also helps reduce food craving resulting in losing weight.
Ginger shall be used in the morning for the best usefulness. Do not consume too much ginger in a day.