Describe
Roasted cashew nuts 300g
Pack: 300g

Ingredients: cashew 95%, Iot salt 5%

Using: ready to eat

MFG: See on the Packaging

EXP: See on the Packaging


DOC: 139/2017/ATTPHCM-XNCB

The price has included VAT tax 10%



---
To have a testa-remained cashew product, raw cashew nuts are carefully selected during harvest and then be roasted to retain the most sweet and brittle state of nut kernels. Good nut kernels are those that taste sweet, fatty, brittle, not soft or bitter due to being burned during production.
How to grade raw cashew materials for testa-remained cashew product: planted in Bazan soil area in Binh Phuoc and Binh Duong provinces, cashew trees usually give cashew nut kernels lightly sweet and tangily fatty when tasting. Those cashew trees planted in the above said area usually have rather big nut ends that are different from others having thin, slender and slim nut ends, exported from Campuchia, Indonesia and Africa.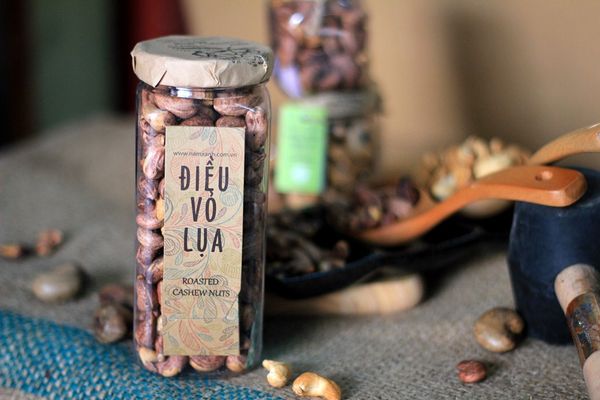 Testa-remained cashew taste good when they are big, open, but not burned or mouldy. Especially, do not to select those turning into green and smelly that are not for eating. What an unfortune if you have spoiled cashew nut kernels sometimes. They will smell horribly and make you hesitate to eat this kind of nut next time.
In order to enjoy good nut kernels, you should take those that still remain with testa. Salt are not stuck on those during production. Thus, they will taste lightly salty, fatty and smell good when removing their testas.
Please notice this and enjoy your life!