Describe
Roasted Cashew Nuts Premium 400g
Weight: 400g.

Ingredients:

cashew 95%, Iot salt 5%.

Use: ready to eat.

MFG: See on the Packaging.

EXP: See on the Packaging.

DOC:

139/2017/ATTPHCM-XNCB.

The price is inclusive of 10% VAT.
---
ROASTED CASHEW USING CASHEW WOOD FOR ROASTING
Considered as a tasty and nutritious snack, Fresh Cashew Roasted Using Cashew Wood will come as a brand new, unique and quality product that Nam Xanh Join Stock Company would like to bring it to you. The most fresh and nice-looking raw cashew, planted in Stieng minority ethinic area in Binh Phuoc Province, the famous land for the fresh and high-quality cashews are selected carefully.
Right after harvest, selected cashew will be processed immediately to keep them crunchy and tasty at the best. Rich in iron, phosphor, selen, Maggie and zinc, cashew will be a good supply of phytochemical substances, antioxydants and proteins for human body.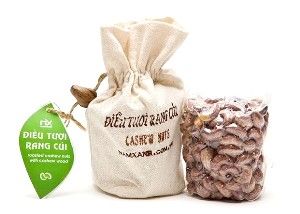 There are seven healthy benefits brought from cashews as studied by scientists as follows: good for heart, prevent cancer, good for hairs and skin due to rich copper mineral, good for bones, nerves, prevent gallstones and lose weight.
Besides, Fresh Cashew Roasted Using Cashew Wood contains no cholesterol and are safe for heart, maintaining healthy gums and teeth, supplying energy to human body and protecting heart health due to containing healthy mono-unsaturated lipids and reducing neutral lipids that often cause cardiovascular disease.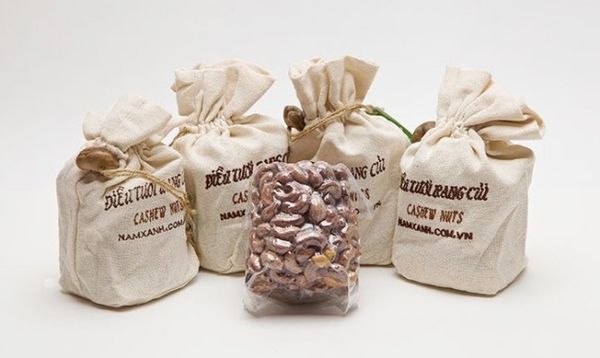 Fresh raw cashew trees are planted using no pesticides. During harvest manually by farmers themselves, they grade the biggest, most frest and nice-looking cashew (Type 1). Those cashew nuts are pre-prepared by steaming followed by roasting naturally using old cashew dry wood to make roasted cashew tasty specially and fantastically.
Especially, Fresh Cashew Roasted Using Cashew Wood Product are produced using no colorings, food additives or other preservatives and manually roasted with pure salt and without preservatives for attractive crunchy and fatty taste.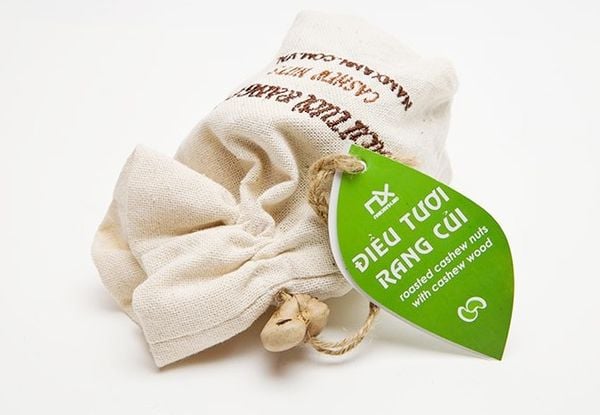 As meticulously manually designed, packings of Fresh Cashew Roasted Using Cashew Wood Product is oriented to the nature highlighted by fresh cashew nuts on the middle of packings creating a new, but simple and close feature to consumers. This product is preferable to as a present to beloved people on holidays and the coming Vietnamese Traditional Tet.